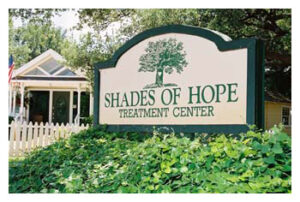 Shades of Hope was established over 20 years ago as an all-addiction treatment center, specializing in the intensive treatment of eating disorders.
The founding owner, Tennie McCarty, learned from personal experience that eating disorders respond well to the addictive treatment modality when she confronted her own eating disorder years ago. As program director of a local drug and alcohol treatment center, Tennie struggled with her weight. She was intervened on by one of her colleagues and, for the first time, heard the word "bulimia." What she discovered on her journey to health and freedom is that eating disorders respond to addiction treatment.
Using the 12-Step approach to wholeness, Shades of Hope has become world renown for the successful treatment of clients with long-standing challenges with eating disorders as well as those dealing with multiple addictive behaviors. By acknowledging fears and issues that need to be confronted, the clients can be guided into identifying the feelings they continue to "medicate" with their addictions and come to believe they can live life free of self-destructive behaviors.
The mission of Shades of Hope is to provide a residential treatment center where individuals can come to reclaim their freedom in a loving and non-shaming environment. Located in Buffalo Gap, Texas shaded by centuries-old oak trees, Shades of Hope is a place of quiet natural beauty, providing the tranquility and safety needed for clients to look deep within themselves. The goal is for them to find the courage to unmask the issues at the core of their addiction(s) and gain the confidence to lead a life of recovery.
Many clients have been in their "disease" so long that they may believe there is no life for them without their addiction: it has become their "best friend." At Shades of Hope, we try to instill the belief that the clients can learn to live life on life's terms. Treating the "whole person," we are aware that relapse prevention does not apply only to the presenting addiction but can apply to other addictions as well.
A vital aspect of treatment is the development and maintenance of a realistic Continuing Care Plan and support system to help the client retain positive changes after leaving treatment. To facilitate this, clients can progress to transitional/supportive living following residential treatment and gradually experience life in "the real world" while still under the guidance of the Center's staff. During the final week of a client's stay, the client works with therapists and staff members to develop a customized Continuing Care Plan to use as the guide to a continued strong recovery.
We believe that all clients can overcome their disease by implementing the tools being taught at Shades of Hope and allowing themselves to begin to feel "worthy" of lifelong recovery.